Our Capabilities
Information System implementation & PMO
Thanks to its experience in several large-scale projects, Accompany Consulting assits you to carry out your project in a more rigorous and dynamic way.
Accompany Consulting has developed comprehensive expertise in Information System Projects through proven methodologies focused on implementation phases and PMO
From perspectives of process automation, data consistency and homogeneity, the modernization of Information Systems becomes an obligation!
Aware that your company needs to initiate an Information System' overhaul project, in order to optimize its management processes and to ensure an effective pilotage of its activity?
Accompany Consulting offers you complete support covering all your project  aspects and adapted to your activity.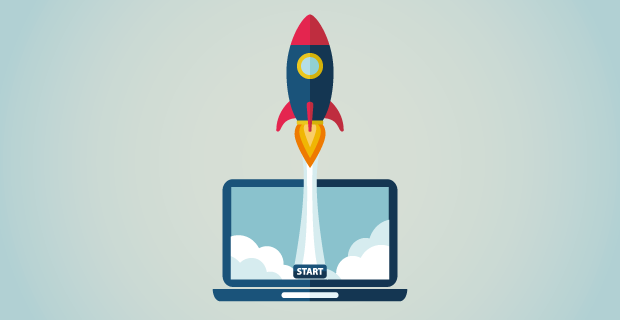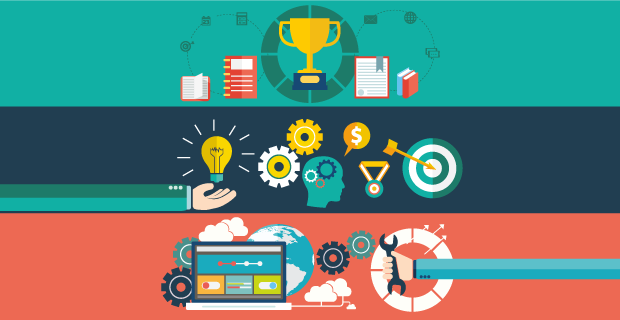 Thanks to our experience, our achievements and an integrated, highly qualified and diversified team, we have developed a proven expertise in Information System Implementation & steering (PMO), across different sectors and contexts.
Our consultants have been involved in similar projects and benefit from know-how and skills to make a successful project.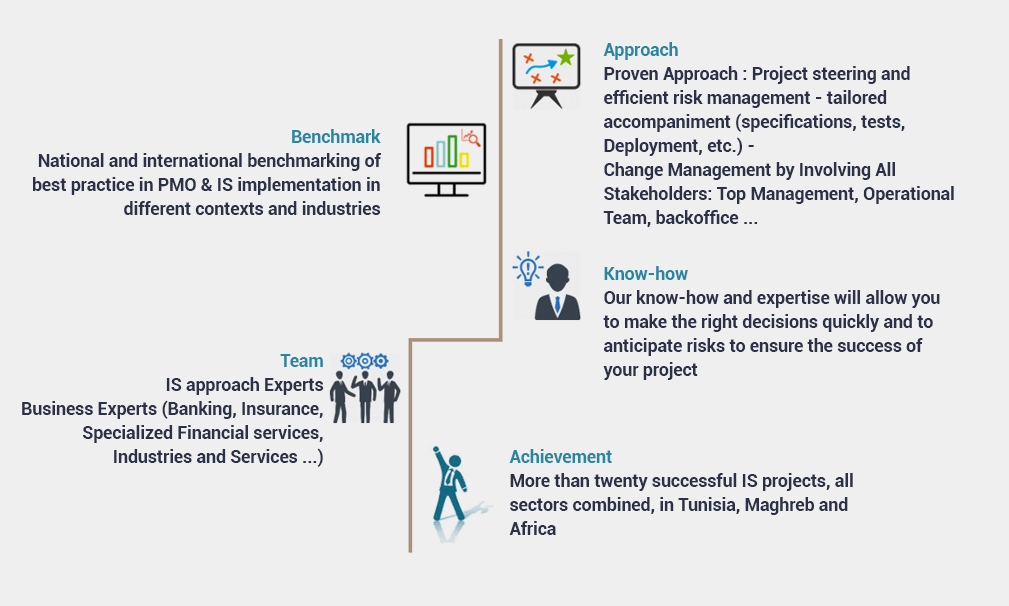 Objective
Project for the implementation of E-Banking and M-Banking solutions, as part of the digitization of distribution channels and the modernization the offered services  by a local bank
Phases of work
1.  Market study on the E-Banking and M-Banking offer in Tunisia
2. International benchmark on best practice
3. Assistance in the selection of an E-Banking solution (Internet and mobile)
4. Assistance in the implementation of the solutions (including PMO)
5. Assessment of Organizational and procedural impact within the implementation of the new E-Banking solution
Achievement
Definition of the digital roadmap to 2020
Selection of E-Banking solution
Proposal for the new organization and target process
Objective
Optimization of the HR & Payroll process & organization following an increase in payroll,  withinin a foreign services company based in Tunisia
Phases of work

1. Analysis and diagnosis of existing HR tools and elaboration of detailed technical specifications (including payroll)
2. The review of payroll processes and the establishment of  target organization
3. Assistance within the testing phase
Achievement

HR IS implemented successfully
Objective
Assistance acroos the transformation of an insurance company and the reform of its insurance information system.
Phases of work
1. Project Steering & Management (PMO)
2.  Management of the "Non-Life" project (Motor,P & C, Transport, Technical Risks, underwriting, management, claims, reporting, network, third parties, accounting…)
3. Assistance within data Migration and Reliability project
4. Steering and assistance within tests on Pass_Insurance (functional, migration, integration, UAT)
5. Training & Change Management
Achievement

The information system covering all Motor'business processes was implemented strating from in June 2015
Objective
Assistance across the bank transformation and development of its electronic payment activity
Phases of work

1. Market study on electronic payment in Tunisia and best international pratices
2. Presentation of initiatives for the improvement of the bank's electronic payment offer
3. Assistance in initiating new payment cards
4. Assistance in the selection of an electronic payment solution
5. Assistance in the implementation of the electronic payment solution
Achievement

Launch of five new payments cards
Electronic banking solution implemented within six months
Objective
Accompaniment of a microfinance institution through the definition of its IT strategy
Phases of work

1. Diagnosis of the functional coverage and application mapping of current information system
2. Consolidation of strategic guidelines and business objectives
3. Design of the target application mapping and the implementation trajectory
4. The definition of the information system's master plan over 5 years
 Achievement

Validation and adoption of the master plan
Objective
Diagnosis of the functional and technical coverage regarding current information system and definition of the target trajectory for the alignment of the IS with corporate strategy.
Phases of work

1. Diagnosis of the functional coverage of the bank' information system
2. Definition of common strategy between the Information System Department and the Management of the bank to ensure the alignment of the IS with corporate strategy
3. Definition of ROADMAP for IS strategic alignment
4. Elaboration of a tool for budgetary control regarding IT investments
5. Definition of project sheets
Achievement
IT Master plan covering the period (2015-2020) validated by the Top management